3D Walls You Need For Your Bathroom
You probably sing in the bathroom or are even a shower performer.
Shower-performing is a common thing to do. Based on biochemical, psychological, and acoustic circumstances, it creates the perfect atmosphere for less-than-perfect singing.
In all cases, we all enjoy the time spent in the bathroom, isolated from everybody.
According to statistics, men spend about 373 days, and women spend about 456 days of their lives in their bathrooms.
In particular, the interior of your bathroom is not less important.
Not surprising that people spend lots of money on designing their bathrooms.

In this article, we will focus on wall design ideas for bathrooms.
During the repair process, people generally pay attention to the two main things: the material and the design.
When designing the bathroom, we better choose moisture-resistant products so they will last long.
Tiles are the most common variant that people choose as they are affordable, and the diversity allows matching them with the whole interior design.
But the world is developing fast, and there are always innovations!
Imagine how nice it feels to have a rest while lying in this bath! The wavy-like wall creates a feeling of harmony, and it seems like you are by the ocean!
Obviously, the design is marvelous, but what about the material?
Most importantly, the material is moisture-resistant, though the base is gypsum! This production is called Printography, which is the same 3D wall panel with a protective layer that is hermetically attached.
By the way, do not worry about your voice while shower-performing here. Our panels have sound insulation!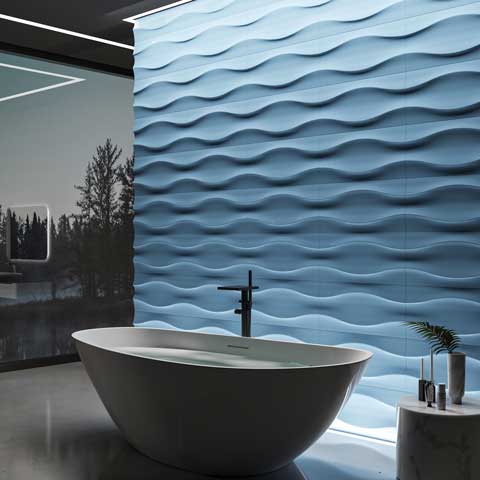 But what if you are not intended to cover the whole wall?
Then you can play with Printography and create a design by randomly installing them on the wall. Not only do they have an unusual design, but serve as a zoning element as well.
Looks very elegant and moody, right?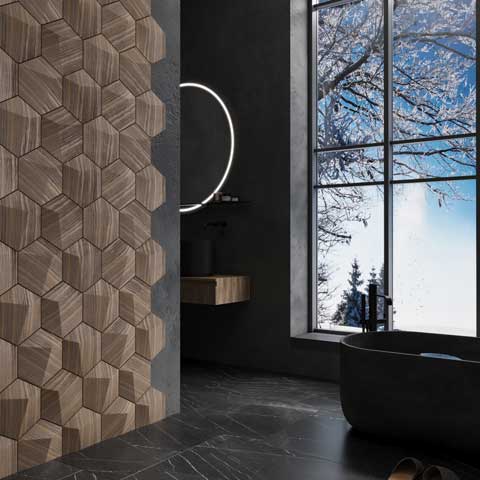 For Printograpy's aesthetic look, Deco Line company has created many finishing layers, including wooden, metal, or leather variants.
Notice that leather layers look very natural and complete the interior.
Maybe someone can consider this as a very dark design. Nevertheless, a dark bathroom is also a good idea. Generally, dark bathrooms work with any size and style of space, from highly modern bathrooms to traditional and luxurious ones. If you think about choosing a bright color for only making the bathroom visually larger, keep in mind that color does not matter. All that matters is that the more monochromatic a room is, the larger it appears. And the more variation in color from wall to floor, trim, and tile color, the smaller the room appears.
Take into account that tastes differ, and the company is ready to create an atmosphere that pleases the customers.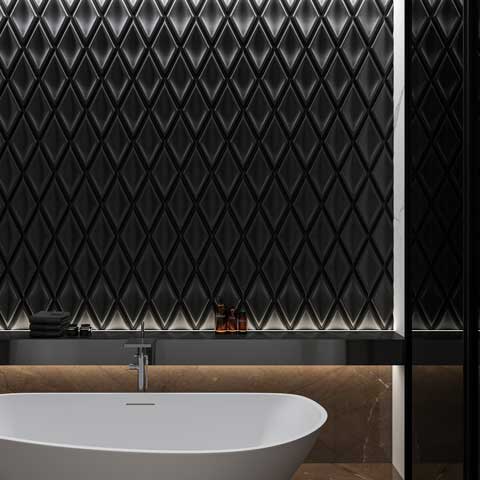 Humans are a part of nature, and it is not surprising that no matter how technology develops, people tend to nature. For some people, it is essential to be as close to nature as possible. Nature enhances our physical, mental, and emotional health. In other words, nature intensifies humans' well-being. Being close to nature, people feel comfortable as it can facilitate spiritual experiences. On this, the principal concept for this bathroom was based. A wide window with an open look to nature and 3D wall panels with a wooden layer create a restful atmosphere to enjoy.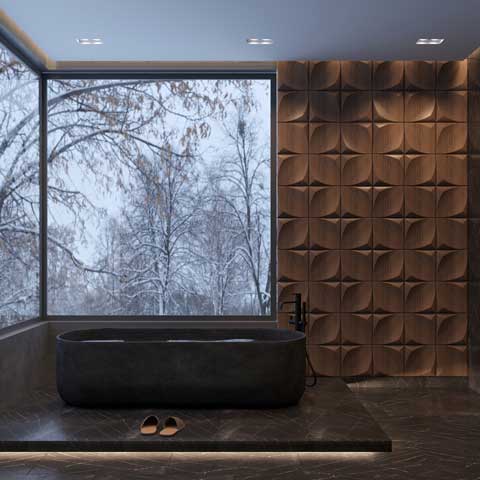 Be selective about your bathroom wall design and create an atmosphere that completely satisfies you so you can have a bath, sing, drink wine and feel fine!