Bas-relief in interior design
A bas-relief on the wall is an image protruding above the plane, designed to decorate a residential or commercial interior. Not so long ago, such decor was distinguished by pretentiousness and was used only to decorate locations in a classical or imperial manner. Nowadays, the theme of gypsum bas-reliefs includes flora and fauna, plot, and abstract prints, which allows them to harmoniously fit into any stylistic concept - from rebellious avant-garde to laconic minimalism or picturesque eco-design.
Features of bas-reliefs in the interior
Regardless of the content, relief walls always look presentable and appropriate. In addition to the bright aesthetic function, bas-reliefs on the wall also solve utilitarian problems:
improve the sound and heat-protecting characteristics of the room
form smooth transitions for delicate zoning of a large area
visually change the architectural proportions of the room
elegantly hide engineering defects and irregularities of coatings
Stucco ornaments are also appropriate in a modern office. Agree that the textured company logo created by a skilled bas-relief master attracts much more attention than a trivial banner on the wall.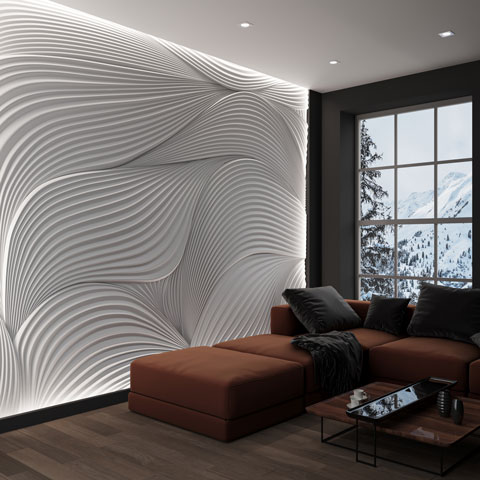 Varieties of bas-reliefs
Experts distinguish two main types of volumetric decorations: bas-relief and high relief. In the first case, we mean the so-called "low" relief in which objects protrude above the wall surface by no more than half the volume of the entire pattern. In high-relief production, a "high" relief technique is used. The figures are more sculptural, and sometimes even separate from the general background and look like independent elements.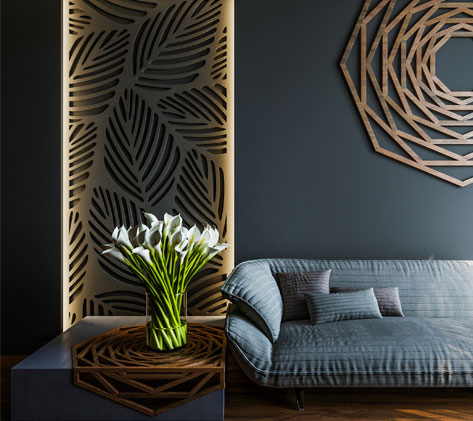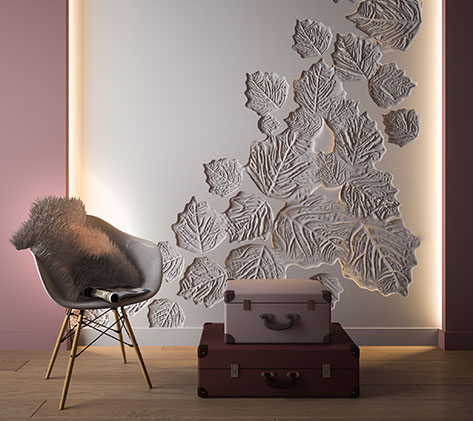 Manufacturing materials
If desired, it is quite possible to make three-dimensional panels from any raw material: metal, wood, paper-mâché, natural or artificial stone, plaster mixture, alabaster, or polystyrene. One of the most captivating options is a plasticine bas-relief, which can be molded together with the child and proudly hung on the wall in the kids' room. An original botanical bas-relief is often made from clay representing real leaves and flowers.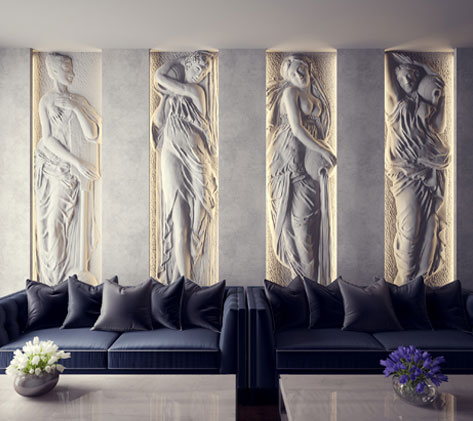 But without exaggeration, the most popular and demanded can be called gypsum bas-reliefs - an inexpensive, fireproofing, and eco-friendly material, able to withstand a sufficient mechanical load and can be quickly restored if repairs are needed. Due to its plasticity, gypsum makes it possible to bring to life the most intricate sketches with a mass of small details. Products come out extremely clear and expressive. And changing the angle of light incidence at different times of the day leads to fabulous play of shadows, each time revealing a familiar composition in a new way.
How to make a bas-relief?
Creating a bas-relief with your own hands is a complex and painstaking process that requires a certain amount of experience in construction and art. The design is built directly on the wall or ceiling with pauses for the layers to dry completely. Or it is formed on a solid base and subsequently mounted on a selected area of a room. To preserve the final look of the bas-relief, it is covered with a primer, varnish, or acrylic paint.
Entrust the production of a bas-relief to professionals who not only know how to realize the wishes of the client but also assess the nuances of the space where the model will be installed. Remember that any mistake in size or an incorrectly set lighting will spoil the impression of the original decor and nullify all your efforts.