Wall panels for the kitchen: unaffordable luxury or perfect finishing?
The choice of wall decoration for a kitchen where we do some cooking and have our meals should be based not only on visual appeal but on the functional characteristics of the finish. Modern wall panels for the kitchen are one of the most successful cladding options, which harmoniously combine aesthetic beauty and impeccable functionality.
Advantages of gypsum wall panels
Gypsum 3D panels combine all the advantages of high-quality interior decor. Made in various designs, they radically transform the living space and easily mask minor construction defects, hide the wires running along the walls and make the home environment more well-maintained.
Let's list the main benefits of gypsum wall panels:
Environmental stability - the composition of the mineral includes only harmless components that do not cause allergies and do not emit toxic substances into the atmosphere.
Fire safety - gypsum coating doesn't burn or melt, tolerates high temperatures well, and in case of fire, prevents it from spreading.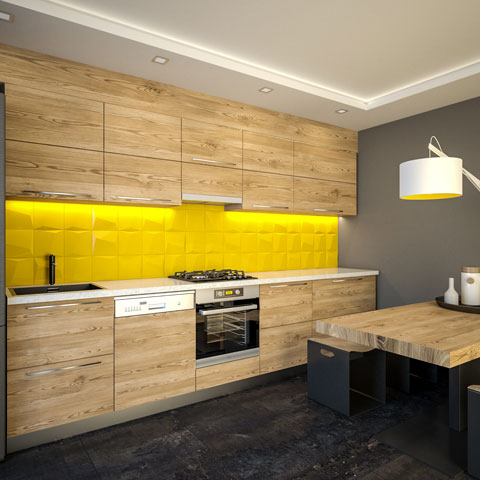 Additional soundproofing - gypsum absorbs sound waves, thereby protecting from street hubbub or overly expressive neighbors.
Easy installation - most often, wall-mounted modules are produced in a large format, which, combined with low weight, highly facilitates their installation.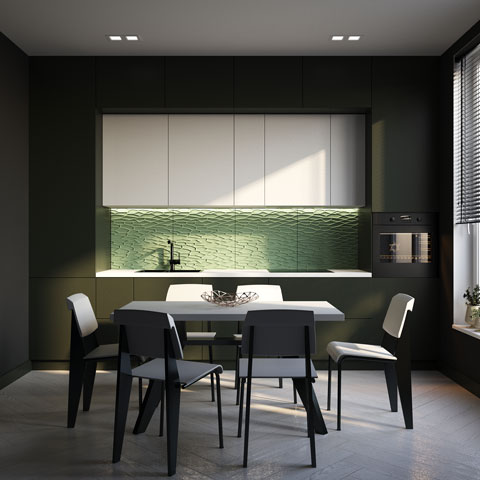 Do not forget that gypsum is a natural material that allows air to pass through. Accordingly, it ensures normal thermoregulation and an optimal microclimate without the "greenhouse effect."
Is it possible to place wall panels in the kitchen?
At first glance, a relief wall may seem very laborious to maintain, especially in the kitchen. High humidity, splashes of fat, and odors accompanying cooking processes may harm the lining appearance and quickly make it unusable. To prevent this from happening, wall panels are covered with an airtight finishing layer to protect them from external factors. This technique is used when producing premium gypsum finishes and is called Printography.
Due to the wide variety of textures, coated gypsum panels beautifully imitate different surfaces - from shiny metal to matte leather or wood texture. These are moisture-resistant and impact-resistant structures that perfectly match the decorating locations with difficult working conditions.
Wall panels kitchen apron look incredibly presentable. Despite the proximity to the stove and sink, printography withstands the operational load adequately and does not crumble under the influence of water and steam, maintaining the same neat look as on the day of purchase. It is an excellent alternative to traditional ceramic tiles, allowing you to make the interior more expressive without losing the consumer properties of the finish.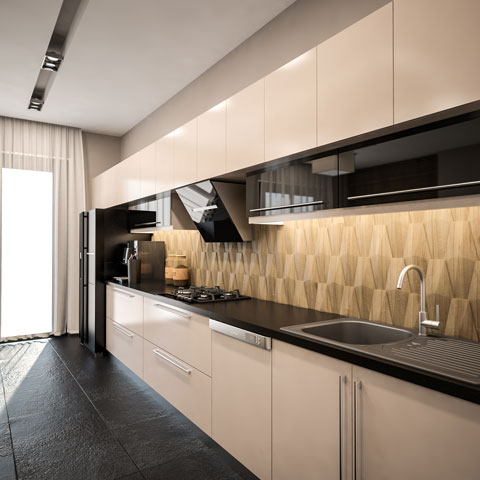 Buy wall panels for the kitchen
Our catalog contains wall panels for the kitchen with printography for arranging a stylish and edited interior. Made with innovative Italian technology, the unique Deco Line gypsum panels emphasize the originality of the surroundings and harmoniously integrate into any design concept. Look for our wall panels for the kitchen in Leroy Merlin or the company's other official dealers throughout Russia.
Let's change your life for the better together!